Opportunities are available across the UK
Finance Requirements
Franchise Fees start at £16,995 + Vat – Plus Store Fit Out, Equipment and Working Capital Requirements. We can offer you a turn key Store, Shopping Centre Kiosk or one of our Funky Pods
WaffleDelight Range
Our Range is freshly baked to order daily including a wide variety of Waffles, Fresh Fruit Smoothies, Real Fruit Milkshakes, Gelato Ice Cream along with Freshly Baked Jacket Potatoes, Organic Soups and Fresh Hot Drinks. WaffleDelight are constantly developing new products and will introduce New Seasonal Items to Enhance your Menu throughout the year.
What does it take to be a successful WaffleDelight franchisee?
Ambition, Enthusiasm, Integrity and a Strong Work Ethic
Personal day-to-day Involvement in the Management of the Business
Financial Capacity to Operate the Business and Adhere to the Business Systems and Procedures
Store location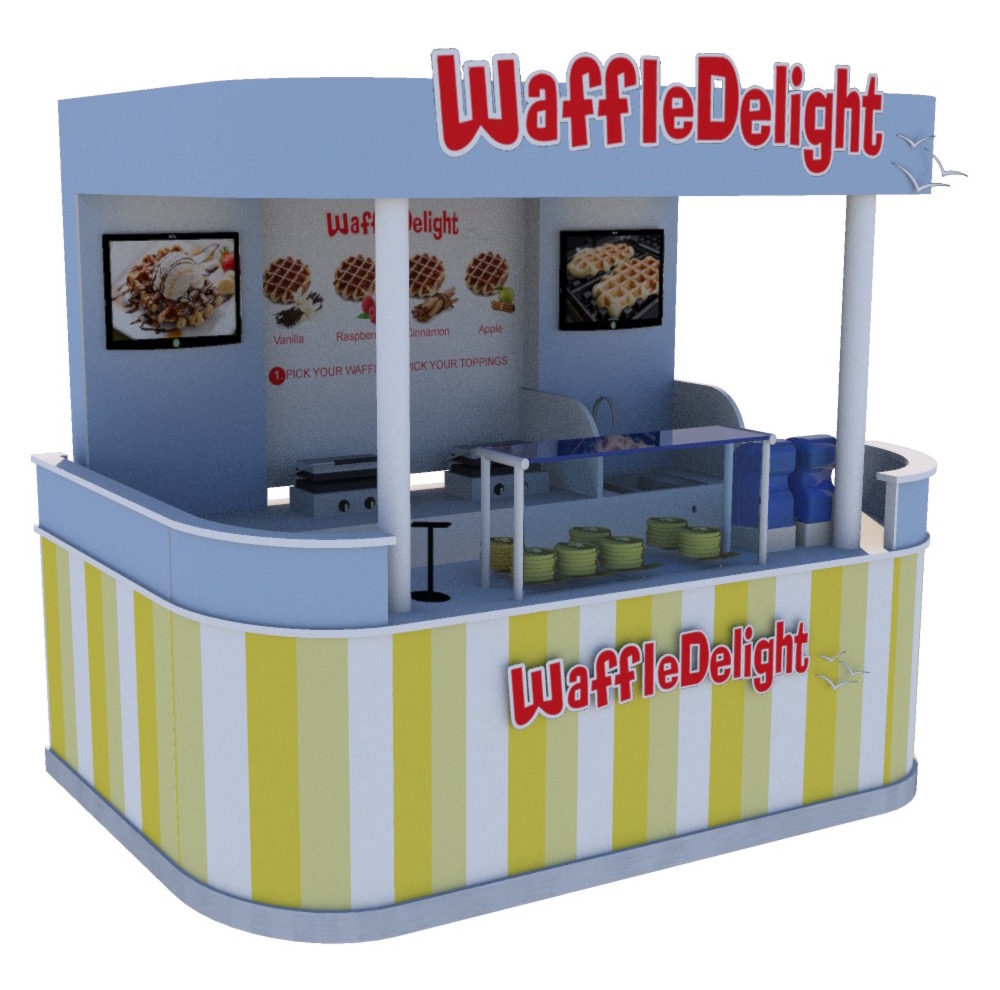 WaffleDelight has very good relationships with Retail Landlords and Surveyors and is able to negotiate Prime Retail Sites. WaffleDelight has a team of Preferred Contractors with corporate support to ensure your Store is built properly and on time. WaffleDelight will provide you with a design of your Store including base plans. You will also receive assistance via an approved shop fitting specialist based upon the WaffleDelight specification.
WaffleDelight will help you with
Design and Branding your own Individual Store
Manage the Construction Program throughout the Build
Supervise the Fit Out of your Store
Equip your Store to the Highest Standard
WaffleDelight consultants provide franchisees with advice on
Business Planning
Ongoing Training and support from Head Office.
Product Development
Staffing
Store Presentation
Marketing
Ongoing training and business advice
On-site Training and Advice is provided to Franchisees through regular visitations by WaffleDelight Consultants Appointed to assist each Store. WaffleDelight has a Financial Model, Management Systems and Business Strategies that combined give you an action plan for success.
Strong brand marketing and group advertising
WaffleDelight's Marketing Department will develop and implement National Marketing and Advertising Campaigns, stores are also provided with Loyalty Scheme Assistance and Support with a Local Store Marketing program which will be aimed to target and capitalise on Local Opportunities.
Frequently asked questions
Could I learn to operate a WaffleDelight Franchise?
WaffleDelight requires that the person purchasing a WaffleDelight Franchise has the qualities mentioned beforehand. Previous experience in the food industry is not necessary, but basic Management Capabilities are a pre-requisite for any retail venture.
Where do I purchase my supplies?
WaffleDelight has established secure relationships with suppliers who will deliver to your store regularly. Prices are negotiated for you. You will be provided with a Standard Product list to order from.
Is there a standardised procedure that I am required to follow?
Yes, however the procedures are simple. WaffleDelight's systems for diversified matters such as reporting, insurance, accounting practices, purchasing, hiring and training new staff, cost control, merchandising and other essential functions contribute to the efficient operation of your Store.
Can I sell my franchise?
Yes. Should you wish to sell your WaffleDelight, Franchise we will advise and assist you with this process.
Should I seek independent advice before entering into a WaffleDelight's franchise?
WaffleDelight requires that its Franchisees obtain competent Legal Advice before entering into the Franchise Documentation, we have a list of BFA Solicitors details that can assist you should you request any assistance. It is also recommended by WaffleDelight that Franchisees retain the services of a competent Accountant.
What happens at the end of the 5 year Franchise Term?
Subject to you meeting certain requirements (one of which is you paying all of WaffleDelight's current Management & Marketing Fees), WaffleDelight will grant to you a new term of 5 years.
How can I obtain financing?
Subject to Status WaffleDelight has a good relationship with a preferred Finance House who can lend up to 70% of the Total Investment needed.
What's next?
What You Need to do: Complete the On-line Application Form below We will Then: Arrange an interview with you, either via telephone or in person. Or you can come to one of our next Open Days at Head Office.
Contact WaffleDelight Franchise